Cusco Travel Guide
The Travel Guide of Cusco
ERROR 404, page not found, find the information you need on the top menu
Recommended Travel Services in Cusco
Hotel Encantada
(See more Hotels)
Tandapata 354 - San Blas
+51 84 242206
+51 84 242206
reservas@encantadaperu.com
http://www.encantadaperu.com
The City of Cusco is the perfect starting point to explore some of the most fabulous sites in South America like the Sanctuary of Machupicchu, the Amazon Rainforest and Lake Titikaka. In the bohemian, artisan district of San Blas in Cusco lies our jewel, the Casa Boutique Spa ENCANTADA. The tasteful, modern construction, offers a lot of comfort and is surrounded by fantastic, flower filled gardens where you can relax between your tours with great views of the surrounding red tiled roofs and the city center.
Peru Land Travel Agency
(See more Travel Agencies)
Amadeo Repetto O-19 Dpto. 02
+51 84 254378
+51 984742022
reservas@peruland.com
http://www.peruland.com
Peru is now one of the most important tourist destinations in the world. Machu Picchu is a new wonder and a great tourist attraction. Cusco is the tourist capital of Peru, so our yields are found in what was once the capital of the Inca Empire, Qosqo. The navel of the world also has the fabulous Sacred Valley of the Incas, pleasant walks in the ancient Inca Trails, large snowy as the Salkantay and Ausangate. For these and more reasons not hesitate to contact us for more information and we will gladly cooperate in organizing your stay in our beautiful country.
Culturas Peru
(See more Tour Operators)
Tandapata 354-A
+51 84 243629
+51 84 243629
info@culturasperu.com
http://www.culturasperu.com
Peru is one of the most diverse countries to visit and offers something to cater to everyone's tastes. At CULTURAS PERU we aim to provide you with the very best of Peru. For this reason, we offer a wide variety of programs, from adventure hikes to culture and ecology tours. Of course we also organize trips catered to the individual's personal rhythm and style.
E-VOLUTION Web Development
(See more Web Development in Cusco)
Tandapata 352 A - San Blas
+51 84 636431
+51 984742022
info@e-volutionperu.com
http://www.e-volutionperu.com
We know how important your web, the need to position and sell a product online is not only based on implementing a web. E-VOLUTION know that corporate image is the first impression of your business, so we base all our experience in developing a professional website to half of its business. Remember that your website is your shop in a large shopping center called the Internet, we know what it takes to sell visual and productively in the large network.
Peru Biking
(See more Trekking & MTB)
Quiscapata 666, Santiago, Cusco - Peru
+51 84 256284
+51 942727200
info@perubiking.com
http://www.perubiking.com/en/
We are a group of adventurers and experts on bicycles, who decided to create a new Brand & Team, specialized in different kinds of Bicycle tours and expeditions. We work so hard to improve the Ecological Conservation in all our trips.Our goal is offering new bicycle tracks and tours with the less Environment Impact, according to the level, experience and requests of our customers. Quechua Bikes www.perubiking.com offers high quality and professionalism in all our expeditions.
Manu Rainforest Peru
(See more Jungle)
Plateros 373-A (Main Square)
+51 84 244430
+51 84 999293566
info@manurainforestperu.com
http://www.manurainforestperu.com/
We are a family-run company from Manu and specialized in trips to the untouched rainforests of Manu National Park with its wide variety of undisturbed wildlife. Founded in 2009 by Angel Robles, born in Manu, M.R.Peru has rapidly grown to be one of the top agencies in Cusco thanks to our groundbreaking policies regarding ethical tourism and our dedication to offer an excellent service. Our expeditions bring you to the inner restricted Zone of the Manu National Park. Also we offer expeditions, tours, trips affordable and exciting adventures to jungle destinations. Manu Rainforest Peru is a fully licensed, professional tour operator based in Cusco, Peru.
Explorer's Inn
(See more Jungle)
Tambopata W/N
+51 82 573029
+51987897919
reservas@explorersinn.com
http://www.explorersinn.com/
The Inn is located within the 274,690-hectare Tambopata National Reserve, one of the world's most species-richbiodiverse natural protected areas and the meeting point of three distinct biomes: lowland tropical rainforest, cloudforest and humid tropical savannah and extensive palm swamps
News
02 July 2015
New route to Choquequirao in Cusco
The land is the only way to reach the citadel of Choquequirao, located in the foothills of Mount ...
---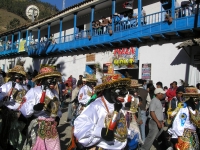 25 June 2015
Virgen del Carmen festivity in Cusco from 15th to 17th July
Paucartambo is located to 109 kilometers from Cusco city, and is located above 2830 meters. It most famous for one massive festival: Virgen del Carmen, which takes place over four days, with the principal days from July 15th to 17th. The Virgen is known locally as Mamacha Carmen and is a patron saint ...
---
18 June 2015
Huilloc: Unforgettable video of this little town into Ollantaytambo in the Sacred Valley
Native community in the Andes of Peru, heir to the Inca worldview, based in Ollantaytambo, Cusco, who maintain their ancestral uses and through experiential tourism rural community ensure the survival of their traditions for later generations.

In October ...
---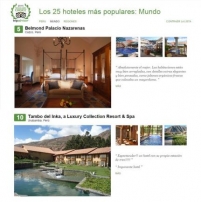 11 June 2015
Two Cusquenian Hotels are inside the 25 best hotels in the world
The popular website TripAdvisor, was published in its web the 25 best hotels in the world and two hotels in Cusco are inside of them.

Belmond

Palacio

Nazarenas

hotel

in

Cusco

(

5th

...
---
02 June 2015
Cusco: Corpus Christi this June 4th
The Festival of "Corpus Christi" looms large in the festive calendar of the city (May or movable June - nine weeks after Easter), is one of the most lavish religious festivals of Cusco so for this occasion the city It is very popular with people coming from other shores. The origin of this festival dates back to ...
---